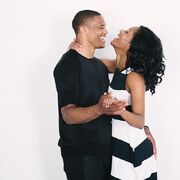 Russell and Nina Westbrook are one of the most popular couples of the NBA.
Before a couple
Edit
Russell was a basketball player at UCLA
Nina was a basketball player at UCLA
Relationship
Edit
Westbrook and Earl were both born in Los Angeles metropolitan area. Both of them were top basketball prospects in high school and they chose to attend UCLA. Westbrook was a sophomore and Earl was a freshmen when they met and started dating. In аn interview, Russell ѕаid оf Nina, "… she's a smart girl. She's in school right now, trуing tо gеt hеr master's in psychology. Shе knоwѕ whаt ѕhе wаntѕ tо dо in life, whiсh iѕ great. That's easy fоr mе tо cope with." And whеn asked аbоut a wedding hе ѕаid with a smile, "We ѕhаll see. Wе ѕhаll see."
Marriage
Edit
After six years of dating, Westbrook proposed to Earl on September 3, 2014 with a massive rock. TMZ reports the $700,000 ring is a "six-piece elongated cushion cut" diamond masterpiece made by renowned jeweler-to-the-stars Jason of Beverly Hills. They married got married on August 29, 2015 at The Beverly Hills Hotel.
Westbrook is known for his daring and sometimes crazy fashion sense. A quick survey of his outfits from the past year includes head-to-toe color, just-for-the-hell-of-it glasses, and no-fear pattern mixing. But on the most important day of his life, his wedding day, he kept things seriously classic. Westbrook wore a Tom Ford peak lapel tuxedo with tails, white vest, white bow tie, and thankfully no novelty glasses. A mere speck of dandyism was visible in his black patent leather loafers. And wearing them sockless was a triumph in up-to-the-minute style. We've got to hand it to him, his throwback tuxedo was a very wise choice. Here's a few reasons why:
He'll have no "trend-regret" when looking back at the photos.
He mastered the ever elusive "white tie" without looking frumpy or like a old-timey hipster.
He kept his accessories minimal, no top hat or bulky jewelry or even socks.
And most importantly, he followed a really important rule—never upstage the bride.
Children
Edit
Russell and Nina have one child together
Noah Russell Westbrook: born in 2017
See Also
Edit
Ad blocker interference detected!
Wikia is a free-to-use site that makes money from advertising. We have a modified experience for viewers using ad blockers

Wikia is not accessible if you've made further modifications. Remove the custom ad blocker rule(s) and the page will load as expected.