LaVar Ball
No. 2
Position
Tight End
Personal information
Date of birth:
October 23 1968
Place of birth:
Los Angeles, California
Listed height
6 ft 6 in (1.98 m)
Listed weight
320 lb (145 kg)
Career information
High school:
Canoga Park (CA)
College:
Cal State–Los Angeles
Undrafted:
1995
Career history
London Monarchs (1995)
LaVar Ball (born October 23, 1968)is a retired basketball and American football player. He played professionally with the London Monarchs of the World League of American Football (WLAF) and was a practice squad member of the New York Jets and Carolina Panthers in the National Football League (NFL). A native of California, Ball attended Canoga Park High School in Los Angeles before playing basketball at West Los Angeles College, Washington State and Cal State Los Angeles.
Ball is the father of former UCLA basketball player and current Los Angeles Laker Lonzo Ball and Chino Hills High School basketball players LiAngelo and LaMelo. He drew widespread media attention upon his sons' rise to popularity in 2016 and due to a series of bold claims he made in 2017.Currently, he is the owner of Big Baller Brand.
Early life and college
Edit
Ball was born on October 23, 1968, and was brought up in South Los Angeles, California.[5][6] He has four brothers, named LaFrance, LaValle, LaRenzo, and LaShon.[6] LaVar attended Canoga Park High School in Canoga Park, Los Angeles, where he was a prominent quarterback on the football team and played basketball as a forward.[7][8] In one season, Ball grabbed a total of 316 rebounds to break the school record.[8] He stood 6 ft 4 in (1.93 m) and weighed 225 lbs (102 kg) by college.[7] Aside from sports, Ball majored in criminal justice at college.[9]
Ball first began playing college basketball at West Los Angeles College despite having little experience at the prep level. In the season opener in 1986, he recorded 33 points and 18 rebounds against Porterville College.[8] Ball then transferred to Washington State and became a starting forward.[10] In 36 games for the Cougars, he averaged 2.2 points, 2.3 rebounds, and 1.0 assists per game.[11] After one season, Ball transferred again to Cal State Los Angeles, which competed in the NCAA Division II.[12]
College statistics
Edit
| College | Year | GP | FG | 3P | FT% | RPG | APG | SPG | BPG | PPG |
| --- | --- | --- | --- | --- | --- | --- | --- | --- | --- | --- |
| Washington State | 1986–87 | 26 | .404 | .000 | .450 | 2.3 | 1.0 | 0.4 | 0.1 | 2.2 |
Football career
Edit
Following college, Ball was invited to a football tryout and eventually made a return to the sport.[1] On March 7, 1995, he signed with the New York Jets of the National Football League (NFL) as a tight end and was immediately loaned to the London Monarchs of the World League of American Football (WLAF).[13] In the 1995 season for the Monarchs, Ball recorded 28 yards in kick returns.[14] During his NFL career, he was also a part of the practice squads of the Jets and Carolina Panthers.[15]
Rise to fame
Edit
In early March 2017, he remarked that his eldest son Lonzo was a better player than Stephen Curry.[16] Later in the month, he asserted that Lonzo was also better than LeBron James and Russell Westbrook.[17] On March 14, despite having averaged only 2.2 points per game at Washington State, he said, "Back in my heyday, I would kill Michael Jordan one-on-one."[18][19] Charles Barkley responded to the claims and challenged Ball to play one-on-one.[20] LaVar additionally said that he believed his three sons would be worth $1 billion for a shoe deal.[21] USA Today labeled his comments as an "endless string of interviews full of cocky claims and premature promises, coupled with insults."[22] Steve Kerr praised LaVar for gaining publicity but questioned his effect on his sons.[23] On Twitter, many users mocked Ball's perceivably exaggerated claims by using the hashtag "LaVar Ball Says" and making their own such statements.[24]
On April 6, 2017, two weeks after Lonzo and UCLA fell to Kentucky in the 2017 NCAA Division I Tournament, Ball said, "Realistically you can't win no championship with three white guys because the foot speed is too slow. I told Lonzo—'One of these games you might need to go for 30 or 40 points.' It turned out that was the one game. Then once they get to the Elite Eight, they're right there."[25] He was presumably referring to his son's teammates Bryce Alford, T. J. Leaf, and Thomas Welsh.[26] Later, Ball praised them and instead layed the blame on his son. UCLA head coach Steve Alford refused to comment on the situation.[27]
Ball and his sons starred in a satirical video released by ESPN on April 14, in which rapper Lil Dicky acted as LaVar's fourth son, LiDicky Ball.[28] On April 20, George Raveling, the global basketball sports marketing director of Nike, called Ball "the worst thing to happen to basketball in the last hundred years."[29][30] In response, Ball claimed that Big Baller Brand would eventually compete with Nike. He also remarked in a social media video, "I know I'm on the right step, 'cause if nothing like this happened in 100 years?' Guess what—we in a new lane, baby!"[30] In the following week, Nike, Under Armour, and Adidas declined to sign an endorsement deal with Lonzo, according to LaVar.[31][32] Stephon Marbury, who owns the Starbury shoe line, praised Ball for wanting to "own his brand."[33]
On May 4, 2017, Big Baller Brand announced its first shoes, the ZO2, which had a retail price of $495 and would be shipped later as late as November 24.[34][35] Shaquille O'Neal criticized Ball for overpricing the shoes, and while Dick Vitale took aim at the price by citing Lonzo's performance against Kentucky at the NCAA Tournament.[36][37] On Twitter, many NFL players like Golden Tate were critical of the shoe price, while Arian Foster and others showed their support.[36] Ball answered by posting on Twitter, "If you can't afford the ZO2'S, you're NOT a BIG BALLER!"[36]
Ball announced on Twitter that the only NBA team that Lonzo Ball will showcase for is the Los Angeles Lakers. He tweeted, "LaVar Ball: Lonzo Ball 'Only Working Out' For Lakers; Predicts Playoff Drought Ends With Son In L.A."[38][39] The claim would be further solidified on June 22, the day of the 2017 NBA Draft, where he stated that Ball would get the Los Angeles Lakers back into the playoffs in his first year with the team.[40] He also made the claim that "[...] from the words of Zeus, Jesus, everybody said he gonna be a Laker! They told me before they told y'all."[41]
On May 17, 2017 Ball made headlines after a heated confrontation with Fox Sports 1 reporter Kristine Leahy on The Herd with Colin Cowherd. While talking with Cowherd about the sales of his company's new shoes, Leahy asked Ball "How Many" in reference to how many Ball had sold. Ball responded with "Stay in your lane," "I don't even worry about her over there," and "She scares me. I don't look over there because I'm scared of her. I'm thinking assault right now. Leave me alone." Ball also told Leahy "Something's coming to you, and it's okay."[42]
Personal
Edit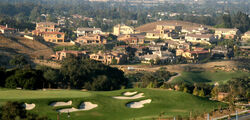 Ball met his wife, Tina, at Cal State Los Angeles, and they have three sons, Lonzo, LiAngelo, and LaMelo.[43]
After his youngest son LaMelo reached four years of age, Ball began training all of his sons to play basketball.[6] They were taught many skills by their father and later played for his Amateur Athletic Union (AAU) team, Big Ballers VXT.[12] For a relatively short period of time in their childhoods, LaVar also had them play flag football, with Lonzo playing quarterback and his other sons catching passes.[6] Following an illustrious career at Chino Hills High School in Chino Hills, California, Lonzo became a star at UCLA. LaVar's younger sons play at the same high school and are both committed to UCLA.[44]
References
Edit
Ad blocker interference detected!
Wikia is a free-to-use site that makes money from advertising. We have a modified experience for viewers using ad blockers

Wikia is not accessible if you've made further modifications. Remove the custom ad blocker rule(s) and the page will load as expected.