LaVar Ball
No. 2
Position
Tight End
Personal information
Date of birth:
October 23 1968
Place of birth:
Los Angeles, California
Listed height
6 ft 6 in (1.98 m)
Listed weight
320 lb (145 kg)
Career information
High school:
Canoga Park (CA)
College:
Cal State–Los Angeles
Undrafted:
1995
Career history
New York Jets (1994-1995)

London Monarchs (WLAF) (1995)

Carolina Panthers (1995)*
LaVar Chris Ball (born October 23, 1968)is an American businessman and media personality, who attracted widespread public and media attention in 2017 after making a series of incredible claims concerning the careers of himself and his sons.[1][2][3][4]He is the father of basketball players Lonzo of the Los Angeles Lakers, UCLA freshman LiAngelo, and Chino Hills High School basketball player LaMelo. A former basketball and American football player, LaVar is the founder and CEO of the sports apparel company Big Baller Brand.
Ball played basketball and American football while at Canoga Park High School. He then played basketball at the collegiate level for West Los Angeles College, Washington State and Cal State Los Angeles. He continued to play American football at Long Beach City College for one season. He later had a short professional career with the London Monarchs of the World League of American Football, and as a practice squad member of the New York Jets and Carolina Panthers in 1995.
Following a series of bold statements in the spring of 2017, Ball consistently began making national sports headlines for his statements. His early remarks included saying that his son Lonzo is better than Stephen Curry and claiming that he himself could defeat Michael Jordan one-on-one. He was subject to both praise and criticism as he continued making similar comments, some of which involved his company, Big Baller Brand. Ball has made several appearances on national TV and has routinely drawn attention from major sports media outlets like ESPN and Fox Sports.
Early life and college basketball career
Edit
Ball was born on October 23, 1968, and was brought up in South Los Angeles, California.
[
 He has four brothers, named LaFrance, LaValle, LaRenzo, and LaShon. LaVar attended Canoga Park High School in Canoga Park, Los Angeles, where he was a prominent quarterback on the football team and played basketball as a forward. In one season, Ball grabbed a total of 316 rebounds to break the school record. He stood 6 ft 4 in (1.93 m) and weighed 225 lbs (102 kg) by college. Aside from sports, Ball majored in criminal justice at college and had hopes of being a U.S. Marshall.
Ball first began playing college basketball at West Los Angeles College in the low-tier Western State Conference despite having little experience at the prep level. In the season opener in 1986, he recorded 33 points and 18 rebounds against Porterville College. Ball then transferred to NCAA Division I side Washington State and became a starting forward. In 36 games for the Cougars, however; he averaged only 2.2 points, 2.3 rebounds, and 1.0 assists per game. After one season, Ball transferred again to Cal State Los Angeles, which competed in the NCAA Division II, playing alongside three of his four brothers. After his college basketball career had ended, he continued to play American football at Long Beach City Collegefor one season.
College statistics
Edit
| College | Year | GP | FG | 3P | FT% | RPG | APG | SPG | BPG | PPG |
| --- | --- | --- | --- | --- | --- | --- | --- | --- | --- | --- |
| Washington State | 1986–87 | 26 | .404 | .000 | .450 | 2.3 | 1.0 | 0.4 | 0.1 | 2.2 |
Football career
Edit
Following college, Ball was invited to a football tryout and eventually made a return to the sport.  After finishing his college basketball career, he would play a single year of college football at Long Beach City College as a tight end. On May 1, 1994, Ball signed with the New York Jets of the National Football League (NFL) as a defensive end. He returned to the Jets on March 7, 1995 as a tight end and was immediately loaned to the London Monarchs of the World League of American Football (WLAF) the same year. In the 1995 season for the Monarchs, Ball recorded 28 yards in kick returns. During his NFL career, he was also a part of the practice squads of both the Jets and Carolina Panthers. After Ball rose to fame in 2017, his former Monarchs teammate Kenny McEntyre said that he was "garbage."
In the media
Edit
Rise to prominence Edit
In July 2015, LaVar made national headlines when Gary Parrish of CBSSports.com wrote a feature story about the Ball family.[18] In a March 2016 interview with MaxPreps, he first began displaying his confident personality to the public. When asked who Lonzo plays like, he described his son as "Magic (Johnson) with a jumper."[7] The family continued rising in popularity after SLAM magazine featured them in an article in August.[1] LaVar single-handedly drew attention from sports media across the country on November 26, 2016 in a mid-game TV interview with ESPN while UCLA was facing Portland. He said that he guaranteed that UCLA, spearheaded by Lonzo, would win the NCAA championship at the end of the season.[19] On December 14, LaVar predicted that all three of his sons would be one-and-doneprospects for the NBA draft.[20] SLAM wrote another article about the family during Christmas, exploring their daily lives.[21] The magazine also published a video titled "Christmas Day With The Ball Brothers" that would receive over 5.5 million views on YouTube.[22]
Increasing coverage Edit
On January 26, 2017, in an interview with TMZ Sports, Ball said, "My boys want to be the best players ever. People don't want to think that far in front. I've told them this since Day 1, since they've been babies, somebody's got to be better than (Michael) Jordan?" He also remarked, "When (Lonzo) gets to the pros, the game is even faster and that's when he's at his best."[23] Ball's comments appeared on several networks, including Bleacher Report and NBC Sports.[24][23]
"I'm gonna tell you right now, (Lonzo)'s better than Steph Curry to me. Put Steph Curry on UCLA's team right now and put my boy on Golden State and watch what happens. I'll double down on it again. Like I said, if I don't know what my boy is about, I'm not going to make that statement. Steph's going to have problems trying to guard my boy. Play one on one!"
In early March 2017, he remarked that his eldest son Lonzo was a better player than Stephen Curry.[25] Later in the month, he asserted that Lonzo was also better than LeBron James and Russell Westbrook.[26] LaVar additionally said that he believed his three sons would be worth $1 billion for a shoe deal.[27] On March 14, despite having averaged only 2.2 points per game at Washington State, he said, "Back in my heyday, I would kill Michael Jordan one-on-one."[28][29] Charles Barkley responded to the claims and challenged Ball to play one-on-one.[30] Ball's claim eventually triggered an response on August 1 from Jordan himself, who said, "I don't think he could beat me if I was one-legged."[31] Ball then said that he would beat Jordan one-on-one with his arm tied behind his back.[32]
As Ball rose in popularity, he also became a target of criticism. On February 15, 2017, the news blog The Big Lead encouraged LaVar to "shut his mouth" and let his sons play.[33] In March 2017, USA Today labeled his comments as an "endless string of interviews full of cocky claims and premature promises, coupled with insults."[34] Steve Kerr praised LaVar for gaining publicity but questioned his effect on his sons.[35] On Twitter, many users mocked Ball's perceivably exaggerated claims by using the hashtag #LaVarBallSays and making their own such statements.[4]
Controversy continues to soar Edit
As Ball continued to make headlines in the spring of 2017, he became surrounded with more controversy. Forbes labeled him "one of the most polarizing figures in sports today."[36]On April 6, 2017, two weeks after Lonzo and UCLA fell to Kentucky in the 2017 NCAA Division I Tournament, Ball said, "Realistically you can't win no championship with three white guys because the foot speed is too slow."[37] He was presumably referring to his son's teammates Bryce Alford, T. J. Leaf, and Thomas Welsh.[38] Among Ball's critics for making the remark was actor Michael Rapaport who recorded a profanity-laced rant on LaVar.[39] Later, Ball praised Lonzo's UCLA teammates and instead laid the blame on his son. The team's head coach Steve Alford refused to comment on the situation.[40]
On April 20, George Raveling, the global basketball sports marketing director of Nike, called Ball "the worst thing to happen to basketball in the last hundred years."[41][42] In response, Ball claimed that his company Big Baller Brand would eventually compete with Nike. He also remarked in a social media video, "I know I'm on the right step, 'cause if nothing like this happened in 100 years?' Guess what—we in a new lane, baby!"[42] In the following week, Nike, Under Armour, and Adidas declined to sign an endorsement deal with Lonzo, according to LaVar.[43][44] Stephon Marbury, who owns the Starbury shoe line, praised Ball for wanting to "own his brand."[45]
On May 4, 2017, Big Baller Brand announced its first shoes, the ZO2, which had a retail price of $495 and would be shipped later as late as November 24.[46][47] Shaquille O'Neal criticized Ball for overpricing the shoes, while Dick Vitale took aim at the price by citing Lonzo's performance against Kentucky at the NCAA Tournament.[48][49] On Twitter, many NFL players like Golden Tate were critical of the shoe price, while Arian Foster and others showed their support.[48] Ball answered by posting on Twitter, "If you can't afford the ZO2'S, you're NOT a BIG BALLER!"[48] The Washington Post wrote that LaVar's decision was both shameless and smart.[48]
More media attention Edit
LaVar also began making several appearances on national television at around this time. On March 23, he appeared on the ESPN show First Take, where he argued with Stephen A. Smith about his bold claims from previous weeks.[50] He returned to the show on March 27 with Lonzo.[51] Ball and his sons starred in a satirical video released by ESPN on April 14, in which rapper Lil Dicky acted as LaVar's fourth son, LiDicky Ball.[52] On May 5, LaVar was interviewed on the ESPN show The Dan Le Batard Show with Stugotz about the price of the ZO2 shoes.[53] Ramona Shelburne wrote a feature story on May 15 called "Speak It Into Being," centered around LaVar's rise to fame, in ESPN The Magazine.[54]
Weeks before the 2017 NBA draft, LaVar revealed that Lonzo would only work out for the Los Angeles Lakers.[55] At the draft, in which Lonzo was picked by the Lakers, he was interviewed minutes after the selection.[56] He said, "From the words of Zeus, Jesus, everybody says he's going to be a Laker. They told me before they told y'all."[57] Ball also predicted that his son would lead the team to the playoffs as a rookie.[56] A few days after the draft, on June 27, LaVar, with Lonzo and LaMelo, made an appearance at the Staples Center for WWE Monday Night Raw. LaVar removed his shirt, challenged The Miz, who kicked one of many Big Baller Brand mannequins inside the wrestling ring, and ran around the ring.[58] On July 4, Joel Embiid said "Man, f--k LaVar Ball" in an Instagram Live post.[59] On July 8, Embiid was assessed a $10,000 fine by the NBA for "using inappropriate language on social media."[60]
Appearance on The Herd with Colin Cowherd Edit
"I asked him a question. That is my job as a reporter. And he came back at me in a very dismissive and inappropriate way. So, I had two choices: I could either sit back and take it … Or I could stand up for myself and talk to him. Still, with complete respect. And for the record, I've actually supported him being such a strong voice for his son, and we talk more about his son than anyone else because of what he's done for him."
On May 17, 2017, Ball appeared on The Herd with Colin Cowherd, a show on Fox Sports, and had a heated confrontation with reporter Kristine Leahy.[62] He never faced in Leahy's direction for the whole interview, trying to only talk to Colin Cowherd on the other side.[63] Ball argued with Leahy about if Big Baller Brand should market to both men and women.[62] When she asked Ball how many ZO2 shoes he had already sold, he said, "Stay in your lane."[64] Ball also remarked, "She scares me. I don't look over there because I'm scared of her. I'm thinking assault right now. Leave me alone."[63] He called Leahy a "hater" of Big Baller Brand.[64]
Later that day on The Herd, Leahy issued a response about her argument with Ball, saying, "So he was upset at me for what I said there, and that's completely fine. But you can't come at me and disrespect me and not look me in the eye and threaten me. That's just not OK."[61] Ball, however, denied threatening her.[61] In the days after the appearance, Leahy claimed that she was getting death threats.[65]Following the incident, Big Baller Brand began selling women's clothing on its website. It also started selling T-shirts that read "Stay In Yo Lane."[66] The magazine Complex called Ball's choice to sell the potentially controversial shirts "his most classless move yet."[67]
Summer AAU mayhem Edit
On July 22, 2017, while coaching his AAU team, the Big Ballers, at the Double Pump Best of Summer Tournament in Anaheim, California, Ball received a technical foul for arguing a foul call and swearing at a referee.[68] Although his team was leading by 9 points at the time, he chose to forfeit the game and had his players leave the court.[68][69] After leaving he said, "It's not about the referee. I'm not gonna have my guys playing hard, and they're cheating. I don't play that shit."[68] On July 26, Ball's AAU team met SC Supreme at the Cashman Center in Las Vegas. The game featured a matchup between the Big Ballers' LaMelo Ball and top high school prospect Zion Williamson.[70] The crowd of about 3,500 quickly filled the stadium and left 1,500 people outside the building. Although several NBA players were in attendance, LeBron James decided to turn back due to the excessively large crowd.[70][71] The New York Post credited LaVar for drawing such a large audience to the game.[72]
Female referee firestorm Edit
"Don't try to step in the lane. She needs to stay in her lane because she ain't ready for this. [Ref] the little kids first and then come up. Because she ain't did enough. She ain't got enough on her résumé, I could tell."
On the morning of July 28, as Ball continued to coach his AAU team in Las Vegas vs. highly-rated prospect Immanuel Quickley and Team BBC, a female referee gave him a technical foul.[74][73] After receiving the foul, he threatened to forfeit the game.[75] Ball reportedly pointed at the referee and demanded that she be replaced. Adidas, who ran the event, decided to bring in a new, male referee when the game resumed.[73][76] Later on, Ball was called for a second technical foul, and after he refused to be ejected, the referees decided to end the game.[75] In a post-game interview, he commented on the referee, "She's a woman who's trying to act—I get that she's trying to break into the referee thing. But just giving techs and calling fouls, that's no way to do it. I know what she trying to say: 'I gave LaVar, I gave him a tech, I'm strong.' That ain't got nothing to do with it. Just call the game."[77] He also said that "she's not in shape."[77]
Days after the incident, the officiating group for the event, Court Club Elite, cut ties with Adidas.[78] In a statement, they said, "Adidas and their leadership acted in a manner that does not parallel our views on integrity or professionalism, and neither should be compromised as they were in this situation."[78] Adidas issued an apology, saying that removing the referee was "the wrong decision."[76] In the fallout of the game, several media outlets and newspapers criticized Ball's actions. ESPN college basketball analyst Jay Bilas wrote an article in which he labeled Ball a "misogynistic buffoon unworthy of my time."[79] Kirk Herbstreit showed his support for Bilas's comments regarding Ball.[80] A sports column in the Chicago Tribune called him a "media-made Frankenstein unworthy of obsessive coverage."[81]
Shoe dispute and continued relevance Edit
On September 1, 2017, Big Baller Brand announced a signature shoe for LaMelo Ball, the Melo Ball 1 (MB1), on its website for pre-order for $395.[84] The announcement stirred controversy about whether the shoes would break NCAA rules and possibly make LaMelo ineligible to play at UCLA.[84][85] NCAA spokesperson Emily James said, "Generally speaking, a college athlete or prospect paid for use of their athletics reputation or ability risks their future eligibility in that sport. This includes profiting from the sale of items bearing the young person's name. NCAA rules, however, do allow prospects to promote commercial products prior to enrollment, provided it is not for pay."[84] LaVar responded to the questions raised, commenting, "We'll worry about it when we get there. Who cares? If he can't play, then he can't play. It doesn't mean he'll stop working out and getting better."[84]Ball, in an interview session with reporters in Chino, California, asserted that the NCAA would not stop the shoe from being released.[86]
Reality television Edit
In early July 2017, Deadline.com reported that Facebook would be releasing a reality television show featuring the Ball family. It would be a part of a larger project for the social media website to enter the video business.[87] After several weeks, it was announced that the show, called Ball in the Family, would exclusively air on Facebook on August 31, with the following episodes airing every Sunday, starting on September 10.[88][89] It was produced by Bunim/Murray Productions, which also helped create the reality TV series Keeping Up with the Kardashians on E! and Real World on MTV.
Personal
Edit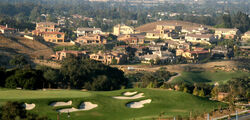 Ball lives in Los Angeles, California, with his wife
Tina
, who played basketball at Cal State Los Angeles, where they met; and they have three sons, 
Lonzo
,
LiAngelo
, and 
LaMelo
. Lonzo is currently a point guard for the Los Angeles Lakers, while LiAngelo is a shooting guard for the UCLA Bruins men's basketball team, and LaMelo is a junior point guard at Chino Hills High School.
After his youngest son LaMelo reached four years of age, Ball began training all of his sons to play basketball.[6] They were taught many skills by their father and later played for his Amateur Athletic Union (AAU) team, Big Ballers VXT.[12] For a relatively short period of time in their childhoods, LaVar also had them play flag football, with Lonzo playing quarterback and his other sons catching passes.[6] Following an illustrious career at Chino Hills High School in Chino Hills, California, Lonzo became a star at UCLA. LaVar's younger sons play at the same high school and are both committed to UCLA.[44]
See Also
Edit
References
Edit
Ad blocker interference detected!
Wikia is a free-to-use site that makes money from advertising. We have a modified experience for viewers using ad blockers

Wikia is not accessible if you've made further modifications. Remove the custom ad blocker rule(s) and the page will load as expected.