Dwyane Wade
and
Gabrielle Union
are the most popular nba couple.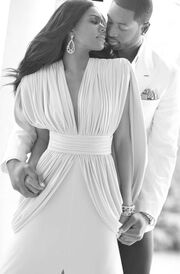 Before a couple 
Edit
Dwyane was a member of the Miami Heat
Gabby was an actress
RelationshipEdit
Before their relationship, they were both previously married.Wade was married to Siohvaughn Funches from 2002 and 2007, and they two sons Zaire and Zion. Union also married to former NFL Chris Howard from 2001 and 2005.
From friends to forever! Gabrielle Union and Dwyane Wade started dating in 2009. Since then, the head-over-heels couple went through a brief split in 2013, a romantic proposal, and a beautiful wedding. See their love story through the years!
Having both been previously married, Union and Wade (pictured here at the Hublot Bal Harbour Boutique opening in Miami) took their time getting engaged. "If the goal is forever, what are we rushing for?" Union told Access Hollywood in 2012.
Smitten sweeties! The couple (pictured here at the Remy V New Year's Eve dinner in Miami) dated for four years before getting engaged. "What you learn from divorce is you have to be incredibly honest, about what you want, what you need, and what your expectations are," Union said in 2012. "As women, we're sort of taught to go along, to get along, not cause any ruffles…but yeah, that got me divorced."
Not-so-secret smooch! Union and Wade have walked many red carpets together, including here at the basketball star's 30th birthday party in Miami. "She makes my eyes sparkle," the Miami Heat player gushed to Oprah Winfrey in 2012.
Though she sat front row at A Night on the RunWade For Wade's World Foundation event in Miami, Union has been banned from sitting courtside at her beau's games. "That got killed when I became too vocal," Union explained on Conan in 2012. "He was like, 'We're going to need you to sit a few rows back because I can hear you.'"
Christmas bliss! Union and Wade spent the holiday season at a Wade's World Foundation event, dressed in matching green and red. "We're a family, and we're growing as a family every day. And I think that's the great thing about it," Wade said in 2012.
It turns out, Wade isn't just a big deal in the States. When the couple took a trip to China together, his fiancee learned just how much of a celebrity she was marrying. "I didn't realize, but he's like Justin Bieber in China," she told Ellen DeGeneres in 2014. "I was not even prepared for this."
Glam grins! Though she dresses up for the red carpet (pictured here at the ESPN Magazine party in Hollywood), Union admitted that she has a much more laid-back style. "I'm the girl that would just rather be at sports bar watching the game with a cold beer," she told Us in 2014.
Though they briefly split in 2013 due to "distance and scheduling," Union (pictured here with her man at Entertainment Weekly's pre-Emmys party in West Hollywood) told Glamour she "reassessed priorities" and decided to give the relationship another go.
Marriage
Edit
Beach babes! The couple, who is nine years apart in age, are both easy on the eyes (pictured here in Malibu, Calif). "I think he's so delicious," Union told Glamour in 2014. "Watching him get out of the shower never gets old. Never." Gabrielle Union and Dwyane Wade celebrated their one-year wedding anniversary on August 30, and recently gifted fans with a video offering a glimpse of the 2014 nuptials at Chateau Artisan castle in Miami.
The 21-minute video of the ceremony features a slew of celebrity cameos — including Lebron James, Kevin Hart, actress Essence Atkins, former NBA player Alonzo Mourning, and BET executive Stephen Hill. Cleverly titled "The Wade Union," the video — which begins with fun opening credits with Natalie Cole's "Everlasting Love" in the background — shows John Legend serenading guests with his 2014 single "You & I," before Wade declares his vows to the "Being Mary Jane" star.
In the moment, it was a no-call, and the play was recorded as a block. But many disagreed, especially Wade's wife, Gabrielle Union. She has many thoughts that she shared on Twitter. Union additionally said that she believes referees should be fined, echoing what Reggie Jackson said after the Pistons lost on Sunday.
See Also
Edit
Gallery:Dwyane and Gabrielle Union